Pastor Cross J. Richard, Sr.
was born in McCrea , Louisiana and is a resident of Baton Rouge , Louisiana . He and his beloved wife, Minister Lois L. Richard, who works diligently by his side, have been married for over 45 years. Pastor Richard is a graduate of Southern University A&M College in Baton Rouge , Louisiana and The Word of Life Christian Center School of Ministry, located in Darrow , Louisiana .
In the year 2000, after over fifteen years of devoted service as Assistant Pastor, he accepted his call to ministry and later established New Creation Word of Faith Christian Center which was later changed to New Creation Christian Center , a growing and established church located in the inner city of Baton Rouge, Louisiana. Pastor Richard often reflects on how New Creation originated in his home with only five faithful members: his wife, sister, nephew, one other servant and himself.
It was by his faith and trust in God that what some called a dilapidated, rundown building infested with prostitutes and drug addicts would be reconstructed into a beautiful, pristine house of worship. After several months of sacrificed time and labor, a costly project had been accomplished with only five members and Pastor Richard never doubted nor questioned God! Since the ministry began, membership has continued to increase due to the unchanging Word that he and his wife have committed to preach without compromise.
Pastor Richard is known and respected by many as a man of strong faith and fervent prayer. He is an outstanding leader with high expectations of himself and others. Pastor Richard knows that he was sent by God to the inner city "to be a voice and not an echo". He proclaims a good word for troubled times. His purpose and passion is to take back the community for the Kingdom of God through prayer, fasting, evangelism and love.
---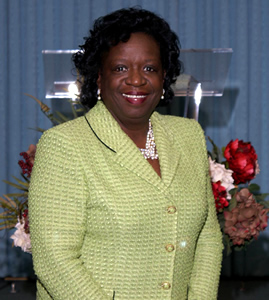 Minister Lois L. Richard is a resident of Baton Rouge, Louisiana. She has been married for over 45 years to Pastor Cross J. Richard, Sr. and is the mother of two children and grandmother of five. Minister Lois was Born-again on November 13, 1985. On April 6, 1986 she had a supernatural encounter with God and he called her to minister to his people with a specific emphasis on Love, Forgiveness and Repentance. God has given her a special love for the mission field, and she has traveled to Russia and Rwanda Africa where she and Pastor Richard have established Churches. Minister Lois has hosted and spoken in many conferences throughout the states, a Radio Broadcast teaching on the "End Times" and has received certificated from Kenneth Hagin School of Ministries in Tulsa, Oklahoma. She is a graduate of Word of Life Christian Center School of Ministry in Darrow, Louisiana. Minister Lois has a Bachelor's Degree in Ministry/Theology from Christian Leadership University in New York. She is currently studying for a Master Degree in Christian Art. Minister Lois is called is committed to serving.